Welcome to YA Scavenger Hunt!
Want to win a paperback of all these books?
One lucky winner will receive one paperback book from each author on the hunt in my team, all of the books above! But play fast: this contest (and all the exclusive bonus material) will only be online for 72 hours!
Go to the YA Scavenger Hunt page to find out all about the hunt. There are eight contests going on simultaneously, and you can enter one or all! I am a part of the PINK TEAM–but there is also a red team, a gold team, an orange team, a red team, a teal team, a green team, and a blue team for a chance to win a whole different set of signed books!
If you'd like to find out more about the hunt, see links to all the authors participating, and see the full list of prizes up for grabs, go to the YA Scavenger Hunt page.
SCAVENGER HUNT PUZZLE
Directions: Below, you'll notice that I've listed my favorite number. Collect the favorite numbers of all the authors on the blue team, and then add them up (don't worry, you can use a calculator!).
Entry Form: Once you've added up all the numbers, make sure you fill out the form here to officially qualify for the grand prize. Only entries that have the correct number will qualify.
Rules: Open internationally, anyone below the age of 18 should have a parent or guardian's permission to enter. To be eligible for the grand prize, you must submit the completed entry form by Sunday April 5th, at noon Pacific Time. Entries sent without the correct number or without contact information will not be considered.
Now to the fun stuff!
SCAVENGER HUNT POST

Today, I am hosting Jennifer Comeaux author of Ice Series: CROSSING THE ICE on my website for the YA Scavenger Hunt!
Jennifer Comeaux is a tax accountant by day, writer by night. There aren't any ice rinks near her home in south Louisiana, but she's a diehard figure skating fan and loves to write stories of romance set in the world of competitive skating. One of her favorite pastimes is traveling to competitions, where she can experience all the glitz and drama that inspire her writing.
Find out more information by checking out the author website or find more about the author's book here!
EXCLUSIVE CONTENT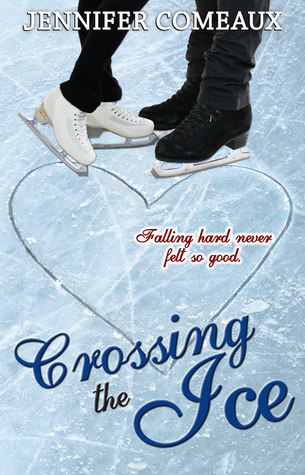 Description: Pair skaters Courtney and Mark have one shot left at their Olympic dream. They vow not to let anything get in their way, especially not Josh and Stephanie, the wealthy and talented brother and sister team.
The heart doesn't always listen to reason, though…
The more time Courtney spends with sweet, shy Josh, the harder she falls for him. But they are on opposite sides of the competition, and their futures are headed in opposite directions. Will their friendship blossom into more or are their paths too different to cross?
CROSSING THE ICE begins when Courtney and Josh are 21 and 22, but they've known each other since they were young teenagers. Here is a bonus scene that takes place six years earlier!
January 2004
"What do you want to do today to celebrate?" Mom asked as we finished breakfast in the hotel restaurant. "A national championship deserves something very special."
I smiled and drank the last of my chocolate milk. My partner Mark and I had been skating together for four years, and we'd finally reached the top of the podium, winning the junior title in pairs. It had been the highlight of my fifteen-year life.
"Maybe we can go shopping… and look at iPods?" I gave Mom a hopeful grin.
"We might be able to do that."
I did a jig in my seat and folded my linen napkin. "I'm gonna get some more fruit."
I headed over to the buffet but stopped when I saw Josh Tucker, one of my competitors, looking at the fruit selection. He was a year older than me and so freaking cute with his shaggy dark hair and clear blue eyes. But we'd hardly spoken since we'd played Seven Minutes in Heaven (or rather, Seven Minutes in Hell) two years ago. I'd wanted him to be my first kiss so badly, but all we'd shared were seven minutes of near silence. Even though Josh was a super quiet guy, I'd hoped he would make just a little move on me. I'd gotten nothing.
Normally I didn't go out of my way to talk to him because I still felt weird about that night, but I was feeling especially confident with my new champion status. I grabbed a small plate and hopped up to Josh's side.
"I'll fight you for that last piece of cantaloupe."
He looked startled, and he fumbled the silver tongs and dropped them on the bar, causing a loud clang. "You can umm… you can have it."
"I was just joking," I said with a little laugh.
He echoed my laugh but with a nervous edge. "I know, but you… it's yours."
He offered me the tongs, keeping his head down. I reached for them, and our fingers brushed, sparking tingles from my scalp to my toes. Josh finally looked up at me, for only a few seconds, but the light in his eyes was enough for the tingles to flush my cheeks.
"Thanks." I dipped my own head, suddenly not feeling so confident anymore.
"Excuse me." An older lady tapped the arm of Josh's Team USA jacket. "Can I get a picture with you and your partner?"
She motioned to me, and Josh and I both stammered while talking over each other.
"I'm not–"
"She's not–"
"I'm not his partner," I finished.
"Oh, sorry about that. Too many faces to keep straight," she said.
"We can still take a picture with you," Josh said.
I raised my eyebrows, but the lady was already handing her camera to the elderly man with her.
Josh and I set down our plates, and I waited for the lady to stand between us, but Josh led her to his opposite side so he was in the middle.
Next to me.
He hesitated a moment and then stretched his arm across my shoulders. It was wiry but solid. I inched closer and curved mine around his waist, slotting perfectly into the nook of his body.
Holy Romeo, he smells good.
The scent of his cologne was slightly sweet and made me light-headed. I barely registered the camera flash firing. I was too busy picturing Josh putting his other arm around me and giving me the kiss he owed me.
"Thank you, kids," the lady said.
Josh slowly let his arm fall away from my shoulders, and he shuffled backward and shoved his hands in his jean pockets.
"That was hilarious," he said. "I don't look anything like Mark."
"And I sure don't look like Stephanie," I said of his partner and sister. I was about to add, Don't act like her either because she was a first-class snob, but I stopped myself from being rude.Josh's eyes focused on mine, and it felt as if he was saying something to me he couldn't say out loud. From the way he was looking at me, it had to be important. My pulse picked up more speed every second he waited to speak.
"Congratulations, by the way," he said.
That didn't seem like what he'd wanted to tell me, but I smiled anyway.
"Thanks. I saw you guys had a good comeback."
He shrugged and looked down at his sneakers. "It wasn't our best competition."
"Josh!" Stephanie marched over to us and gave me a sidelong scowl. "What are you doing? We
have to go."
"Oh… yeah… I forgot." He turned back to me. "We have a meeting."
My heart sank that he was leaving just as we'd actually started talking. Should I hint we could talk more later? How am I going to smoothly pull that off? And with Stephanie giving me the stink eye? I chickened out and said quietly, "Have fun."
They walked away, and Josh glanced quickly at me over his shoulder. Stephanie didn't give me another look (nor had she congratulated me, but that didn't shock me). She was so easy to read. Unlike her brother.
I picked up my plate and plopped the slice of cantaloupe onto it. Standing so close to Josh had made me wonder for the millionth time what kissing him would've been like. He was so quiet and gentle that I imagined his kiss would be soft and sweet. The perfect first kiss. Not like the one my Homecoming date had given me. He'd practically cracked my teeth he'd crashed his mouth into mine so hard.
Why am I even still thinking about this? It had taken Josh and me two years to say more than five words to each other. At the rate we were going, we'd be thirty by the time we got to first base.
And don't forget to enter the contest for a chance to win a ton of signed books by me, Jennifer Comeaux, and more!
To enter, you need to know that my favorite number is 13.
Add up all the favorite numbers of the authors on the blue team and you'll have all the secret code to enter for the grand prize!
CONTINUE THE HUNT
To keep going on your quest for the hunt, you need to check out the next author! Find Melissa Giorgio HERE.
Extra Giveaway
Enter to win ebooks of all my books!